Zooom

The band which was made up of Kim Mitchell (lead guitar), Jim Chevalier (rhythm guitar, lead vocals), Phil Goodwin (keyboards, sax), Dave Myles (bass) and Brian McLellan (drums, vocals) started out calling themselves The Grass Company. Kim and Brian had previously been members of a local group called the Quotations and Jim, Phil and Dave came by way of another local band called the Unit Four. They later changed their name to Big Al's Band and then finally, when they made the big move from Sarnia to Toronto, they became Zooom. The band was unable to make a go of it in Toronto and broke up with everyone but Kim moving back to Sarnia.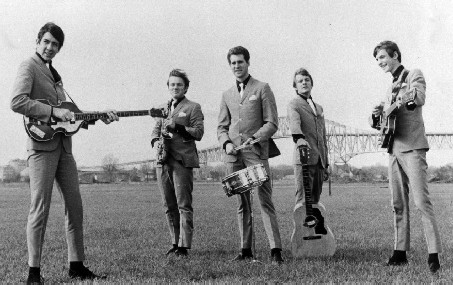 An early promotional photo of the Grass Company with Sarnia's Bluewater Bridge as a backdrop. Pictured from left to right are: Dave Myles, Phil Goodwin, Brian McLellan, Jim Chevalier and Kim Mitchell.
While in Sarnia as The Grass Company and later as Big Al's Band, the boys would play at high school dances throughout the area and at dances at Rose Gardens (the local roller-skating rink) on weekends. They would also play at many civic events, either opening for nationally known acts, or head-lining on their own. Eventually, they were even playing dates in Michigan. One such date, which I attended, was opening for the MC5 at the Kellog Community College in Battle Creek, Michigan.
Kim eventually achieved national, and to some extent, international success with one of Canada's best bands in the late 70's, Max Webster. Dave was later recruited by Kim to join him in Max Webster and take the place of Mike Tilka, who left to take up a career in the business side of the music industry. Kim went solo in 1981, and after one gold album, three platinum albums and two multi-platinum albums, is still touring, although mostly in Canada with occasional gigs in Buffalo, New York, where he has a huge following. In 1992, Jim teamed up with Kim to write the lyrics to a number of tunes on Kim's "Aural Fixations" album.
Just prior to Max Webster's demise, Dave left to enter the business world and manage a chain of KFC restaurants which spans parts of Michigan and South-Western Ontario. He has kept his hand in the music business over the years backing up a female jazz vocalist on guitar in the Sarnia area. Both Jim and Brian have played in and around Sarnia in numerous bands covering many styles of music over the years. They are currently in a band called Almost Floating. I'm not sure what Phil is doing these days. Last I heard (many years ago) he had gone out to the Pacific coast of Canada.